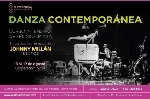 Date:
August 13, 2018 to August 13, 2018
Where:
Plataforma 322, Lucerna 153. Col. Versalles, Puerto Vallarta, Jalisco, Mexico, 48310
Event Type:
Arts & Theater
The dancers will find several skills, challenges and abilities to face an important level of technical virtuosity. The fusion of all the tools we have used to develop a new form of style that we define as a mixed technique (Delfos). This new technique has been proven in the last 17 years as training in the professional school of dance of Mazatlan, giving as results the integral formation of professional dancers.