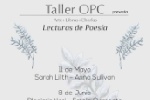 Date:
August 10, 2018 to August 31, 2018
Where:
Taller OPC (Oficina de Proyectos Culturales), 584 Juarez, Puerto Vallarta, Jalisco, Mexico, 48300
Event Type:
Arts & Theater
OPC Workshop invites you to the poetry reading cycle aloud, the second Friday of August, at 6.30 in the afternoon. Free event and open to the general public. All the invited poets are young people from Puerto Vallarta.