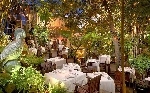 Date:
November 21, 2019 to November 21, 2019
Where:
Café Des Artist, Guadalupe Sanchez 740, Centro (12,11 km) 48300 Puerto Vallarta, Puerto Vallarta, Jalisco, México
Event Type:
Festival & Fairs, Festivals & Fairs, Food & Dining
Within the framework of the International Gourmet festival, a visit to one of the most emblematic restaurants in Puerto Vallarta is scheduled: Café Des Artistes, a place that opened its doors 28 years ago and has become a meeting point for lovers of food. high kitchen.
Café Des Artistes by distinguished chef Thierry Blouet will be one of the great hosts of the festival and on Thursday, November 21, he plans to carry out one of his already traditional themed evenings. This year, the menu will be inspired by traditional Hungarian cuisine in the 21st century.