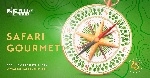 Date:
November 20, 2019 to November 20, 2019
Where:
Café Des Artistes,, Calle Guadalupe Sánchez 740, Centro, 48300 Puerto Vallarta, Jal., Puerto Vallarta, Jalisco, México
Event Type:
Festival & Fairs, Festivals & Fairs, Food & Dining
Ticket Price:
146.91 - 146.91
It is a nightly gastronomic tour through four of the best restaurants located in downtown Pue
rto Vallarta. The tour begins at Café des Artistes, continues in Saffron, then at Kaiser Maximilian to end the evening at El Dorado.
In restaurant will serve their best recipes, accompanied by champagne wines and spirits and in the end a guest chef along with his team of collaborators will serve dessert and chat with the attendees.
The appointment is at Café des Aristes at 7:30 p.m. and transportation to other places is included in your ticket.

The cost is $146.91 USD