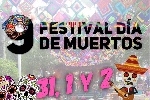 Date:
October 31, 2019 to October 31, 2019
Where:
Sayulita Nayarit, Sayulita Nayarit, Sayulita, Mexico, Sayulita, Nayarit, Mexico, 63734
Event Type:
Culture, Family, Festival & Fairs, Festivals & Fairs, Music & Concerts
Enjoy the impressive day of the dead festival that the town of Sayulita has prepared. Which will be held from Thursday, October 31 to Saturday, November 2. This year, the habitants of this beautiful town Nayarita, seek to break all expectations and hold a great celebration to commemorate the dead.
In addition, it will be a special event, as it will be dedicated to cancer victims. Those women who unfortunately could not overcome that disease but also those who remain in battle or those who have overcome it.
Be part of this celebration and go to this edition number 9 of the festival. There will be concerts, dances, tours, offerings, traditional food and many more surprises.