Grand Velas Riviera Nayarit PRESSROOM
Jun 28
Christmas Trees and Toys Delivered to Suite at Mexico's Grand Velas Resorts
Puerto Vallarta, Mexico (June 28, 2016) - Tree decorating, presents, and giving back to others are all part of the Christmas Experience at the Grand Velas Resorts in Riviera Maya and Riviera Nayarit. A highlight of the holiday season, guests can bring their celebrations to the resort with Christmas trees (pre-decorated or with ornaments to decorate as a family) and toys. Christmas trees will be delivered to the spacious suites upon arrival as a pre-holiday celebration activity, while the toys and presents will appear on Christmas Eve from the help of Santa's special Velas elves. Everything can be easily pre-selected from an online gift shop prior to arrival, including preference of ornaments, tree toppers and gifts for under the tree. Toys for both boys and girls range from Barbie and Angry Birds gear to a remote-controlled Minion Mobile and variety of Legos. Guests are also able to donate toys online to the Center for the Caring of Children with Cancer, a non-profit institution dedicated to serving children and teenagers with cancer. To make arrangements prior to arrival, hotel guests can visit https://velasresorts.com/christmas/.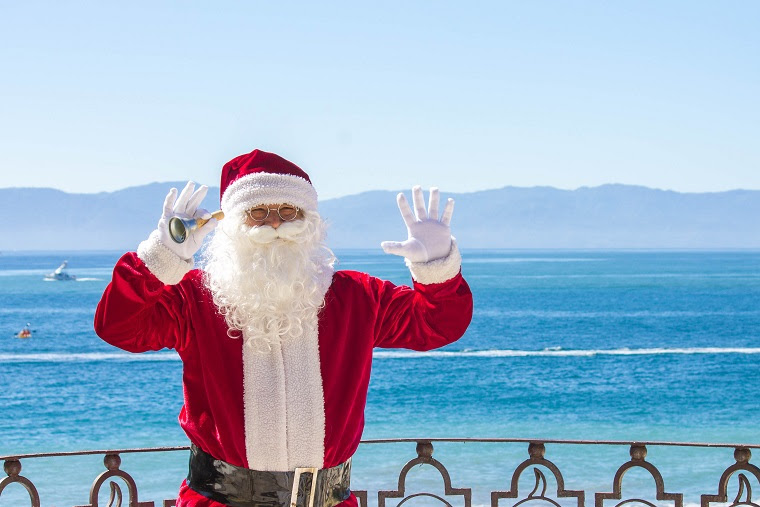 The AAA Five Diamond Grand Velas Riviera Maya and Grand Velas Riviera Nayarit on Mexico's Caribbean and Pacific Coasts, respectively, provide entertainment for kids with a daily themed shows, Drive-in Movies, Mexican posada, Santa's Workshop and more. Teens enjoy dedicated lounges with everything from video games, Xbox Kinect, and karaoke to special activities like urban dance classes and non-alcoholic mixology classes.
All-inclusive rates include luxury suite accommodations, a la carte gourmet meals at a variety of specialty restaurants, premium branded beverages, 24-hour in-suite service, fitness center, taxes, gratuity and more. Christmas trees and gifts must be pre-ordered by December 15th. Christmas trees and ornaments start at $200 at Grand Velas Riviera Nayarit and $250 at Grand Velas Riviera Maya. Nightly rates start at $653 at Grand Velas Riviera Maya and $671 at Grand Velas Riviera Nayarit. Rates are per person per night based on double occupancy. For more information on Velas Resorts, please call 1-888-407-4869 or visit www.velasresorts.com.
About Velas Resorts:
Offering unparalleled all-inclusive experiences, the four Velas Resorts in Riviera Maya, Puerto Vallarta and Riviera Nayarit have earned more than 43 AAA Diamonds, including the prestigious Five Diamond Award. Other esteemed international awards for their services and facilities include Virtuoso's "Best Spa", Conde Nast Johansens' "Most Excellent Resort" and "Most Excellent Spa Hotel" and the American Academy of Hospitality Sciences' 5 Star Diamond Award. Properties include Casa Velas named the 8th Best Hotel in the World on The Expedia® 2013 Insiders' Select™ List, a boutique adults-only hotel and ocean club located on the Marina Vallarta Golf Course, and Velas Vallarta a family-friendly all suites resort and spa located on Banderas Bay, both in Puerto Vallarta; and the AAA Five Diamond Grand Velas Riviera Nayarit located in Riviera Nayarit. Completing the group is Grand Velas Riviera Maya, located five minutes from Playa del Carmen, offering the most sophisticated, ultra luxury all-inclusive resort experience in the Caribbean with jungle and beach settings. Velas Resorts feature spacious accommodations, spas, a unique culinary experience at a selection of restaurants, 24-hour insuite service, fitness centers, personal concierge service, state of the art conference centers, extensive family programs, fully stocked mini bar and more. Velas Resorts are operated by Eduardo Vela Ruiz, owner, founder and president of Velas Resorts, with brother Juan Vela by his side, vice president of Velas Resorts