Grand Velas Riviera Nayarit PRESSROOM
Feb 07
Grand Velas Riviera Nayarit Announces Expert Lineup for 2019 Wellnessing Getaway
Puerto Vallarta, Mexico (January 30, 2019) - Grand Velas Riviera Nayarit announces its 2019 Wellness Getaway inclusive of industry leaders, crystal readings, yoga, and other mindful wellness activities will be held May 9-11. All special Wellness Week activities are included complimentary in the resort's nightly rate.
In 2019, instructor highlights include fashion stylist-turned shamanic energy practitioner Colleen McCann; Sherri Baptiste, founder of the nationally recognized "Baptiste Power of Yoga" method; and Claire Grieve, a highly sought-after international yoga specialist, stretch therapist, health coach and wellness writer. Baptiste will guide guests through yoga postures for serenity, strength, grace, and beauty during her Power of Yoga class. Additionally, she'll teach a Yoga with Weights class that will tone abs, stimulate metabolism, build endurance, maintain bone density, and increase flexibility. In a CRYSTALS 101 class,Style Rituals' founder Colleen McCann will teach the basic know-how needed to dive into the sparkly world of gems based on her newly released book, Crystal Rx. Guests will walk away with a wealth of knowledge, industry tips n' tricks as well as a customized crystal 'Medicine Bag'. McCann will also lead a workshop on ceremonies and rituals to help bring greater balance, focus, abundance, confidence and more into one's life. Highly sought-after international yoga specialist Claire Grieve will offer a fast-paced power vinyasa class as well as a restorative and meditative stretch session that will help loosen tight muscles, melt away tension and connect to natural energy. Additional activities include a Cardio & Sculpt Power Yoga with Mexican Trainer and Fitness expert Rebeca Sutton, Kundalini meditation with ancestral sounds led by the Director of Mexico's Yoga Institute, AquaForza water workout, sound therapy, All Senses Dinner, and more.
In addition to wellness activities available at each resort, travelers seeking an all-encompassing wellness retreat can opt to stay in one of the resorts duplex wellness suites. Velas' Wellness Suites offer a plethora of fitness and wellness amenities, including:
MUSE brain sensing headband to aid in meditation practices;
Personal Spa Concierge to provide counsel on a wide-variety of available spa treatments and health offerings at the resorts;
Artisan soap selection;
Healthy gluten free snacks and daily juice options;
In-suite exercise kit comprised of a yoga mat, dumbbells, resistance bands, and even an exercise bike;
Water menu with a selection from still and sparkling to Coconut and Alkaline;
Organic skin care products from the spa;
Aromatherapy Kit with scents ranging from cedar and lavender to tangerine and myrrh;
Nikken Kenko™ pillow and comforter; and,
LED Lamp with a clock and timer that increases gradually, simulating the dawn and dusk, which helps guests fall asleep and wake up more naturally.
Resort rates start at $315 at Grand Velas Riviera Nayarit. Accommodations in the Wellness Suites start at $370 at Grand Velas Riviera Nayarit respectively. Rates are per person per night based on double occupancy and include all Wellnessing Getaway activities, luxury accommodations, a la carte gourmet meals at a variety of specialty restaurants, premium branded beverages, 24-hour in-suite service, taxes, gratuity and more. Spa treatments are an additional cost. For reservations or more information, call 1-888-407-4869 or visit https://velasresorts.com/wellnessing-getaway/.
About Sherri Baptiste:
Sherri Baptiste is an inspirational teacher at the forefront of yoga training in the United States. She was born into a rich heritage, the sister of Baron Baptiste, her parents, Magaña and Walt Baptiste are recognized as leaders and pioneers in the fields of yoga, health and fitness and are recognized for having established yoga on the West Coast in the mid-1950's. Sherri draws from an in-depth training and background, teaching yoga since her teens she is the founder of "Baptiste Power of Yoga," a nationally recognized yoga method. Her Power of Yoga Teachers Certification Programs are recognized by Yoga Alliance. She presents classes and workshops throughout the United States and hosts retreats around the world. She's a presenter for Western Athletics' Bay Clubs, Gold's Gym, Nautilus, Equinox, IDEA World Fitness, Inner Idea Conference, Body Mind Spirit, ECA NYC, AFPA, Can Fit Pro and offers many yoga retreats, including retreats at Kripalu, Omega Institute, Haramara, Green Gulch Zen Center, Rancho La Puerta Spa, Cal-A Vie Spa, Montage Resorts and Feathered Pipe Ranch. A radio and television personality. Sherri is the author of 'Yoga with Weights & Yoga All in One for Dummies brand of books' (Wiley Publishers). To learn more about Sherri at these Web sites: www.powerofyoga.com
About Claire Grieve: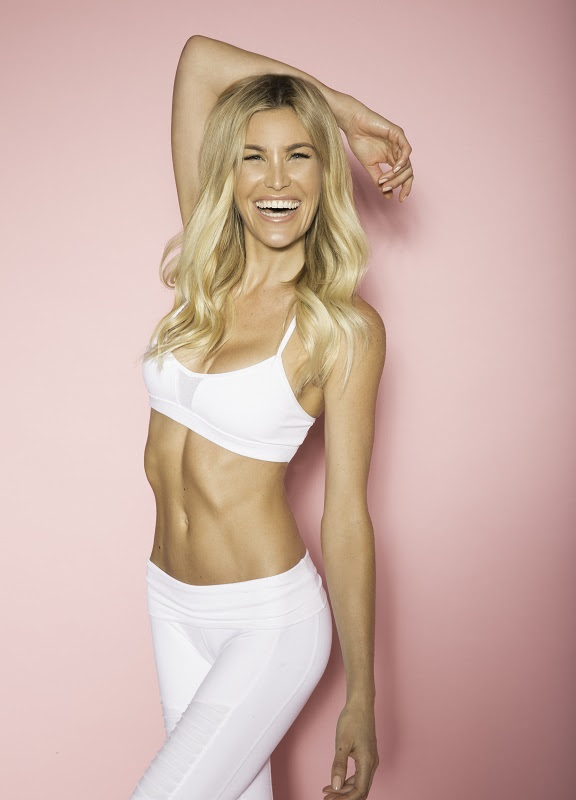 Claire is a highly sought after international yoga specialist, stretch therapist, plant-based health coach and wellness writer. Claire underwent extensive yoga training with some of the world's top yogis and is also a certified Health Coach. Claire has dedicated almost a decade to teaching and is on a serious mission to make yoga enjoyable and accessible to everyone. Her deep and pure passion for helping people transform through yoga and wellness has led her to work with with a vast array of celebrities, professional athletes, fitness leaders and people of all genders, professions, shapes and sizes. Claire has been featured in Harper's Bazaar, Vogue, Womens Health and SHAPE Magazine. Follow Claire at instagram.com/claire_grieve or www.clairegrieve.com.
About Colleen McCann:
Colleen McCann is a certified Shamanic Energy Practitioner who was a fashion stylist in a past life. She has travelled the world researching crystal traditions and conducting crystal readings, as well as space clearing and balancing, shamanic healing, and intuitive business coaching sessions. Her work has been featured on GOOP, and in The New York Times, Vogue, Vanity Fair, Refinery29. She lives in New York and Los Angeles. Her website is www.stylerituals.com.
About Grand Velas Riviera Nayarit:
The AAA Five Diamond Grand Velas Riviera Nayarit enjoys a privileged natural setting with flowering, landscaped gardens beside a long stretch of pristine beach and a dramatic backdrop of the Sierra Madre mountains. The centerpiece of the gardens is a three-tiered, multi-temperature infinity pool, a preferred spot for catching the legendary sunsets. The resort features 267 ocean-view suites, some with private plunge pools, and all with fully stocked mini bar, L'Occitane amenities and Nespresso machines. Wellness Suites include a personal training session and massage in-suite in addition to other fitness amenities, such as a Lifecycle Exercise Bike, organic soaps, Aromatherapy Kit, and more. Of the resort's six restaurants, three, serving French, Italian and Mexican gourmet cuisine, have received AAA Four Diamond awards for distinguished cuisine and presentation. In November 2018, the resort opened a new Asian-inspired restaurant to complement its renowned dining program. An oasis of wellbeing, Se Spa has been included on Forbes Travel Guide's list of The World's Most Luxurious Spas. This Puerto Vallarta spa offers 20 treatment suites, more than 30 spa treatments, many inspired by the native traditions of Mexico and a signature water journey. Other features include a fitness center, 24/7 in suite service, water sports, business center, tennis, baby concierge, Kids' Club, and state-of-the-art Teens' Club. The all inclusive resort in the Riviera Nayarit features more than 25,000 square feet of indoor meeting facilities, including the Grand Marissa Ballroom, which consists of more than 6,000 square feet and is easily subdivided into five separate rooms. The resort's facilities also include four other rooms ranging from 681 to more than 1,954 square feet that offer several arrangement variations to maximize meeting productivity and efficiency. Things to do in Puerto Vallarta include water sports, exploring the lush jungle, visits to traditional villages and more. This Puerto Vallarta luxury resort has won numerous awards from Condé Nast Traveler, Travel + Leisure, TripAdvisor, U.S. News and World Report and Forbes, which named it one of the Top Ten Coolest All-Inclusives. A member of Preferred Hotels & Resorts, Grand Velas Riviera Nayarit was built and is operated by Eduardo Vela Ruiz, founder and president of Velas Resorts, with brother Juan Vela, vice president of Velas Resorts, by his side. For reservations or more information, call 1-888-407-4869, email reservationsrn@velasresorts.com or visit https://vallarta.grandvelas.com/.