Grand Velas Riviera Nayarit PRESSROOM
Sep 29
Healthy Salade Niçoise Recipe from Grand Velas Riviera Nayarit's 2017 Wellness Getaway, October 4-7, 2017
University of Miami Culinary Instructor to Lead Cooking Demonstrations
Riviera Nayarit, Mexico (September 29, 2017) - The "Beyond All-Inclusive, Beyond All Compare" Grand Velas Riviera Nayarit announces the 2017 Wellness Getaway inclusive of industry leaders, healthy cooking classes, Spa Atelier workshops, juice therapy, therapeutic concerts, and sunrise yoga among other mindful wellness activities. Award-winning cookbook author, nutritionist and culinary instructor Robyn Webb will lead cooking demonstrations on sumptuous salads and versatile vegetarian dishes during the getaway. For those who can't make it to the resort, Webb has shared her Salade Niçoise recipe with fresh tuna, red peppers and a vinaigrette dressing to make at home.
Salade Nicoise
8 servings/ serving size: 1 cup
Preparation time: 40 minutes
Cook time: 15 minutes
Ingredients
1 Ib fresh good-quality tuna
2 T Canola or vegetable oil
7 small red potatoes, unpeeled
½ lb haricots vert
8 C mixed greens
2 red peppers, roasted and sliced
3 tomatoes, cubed
½ C black olives with pits
2 T capers
2 hardboiled eggs, sliced
Salt
Fresh ground pepper
Vinaigrette
3 T white or red wine vinegar
1 T fresh lemon juice
½ shallot, minced
1 garlic clove, minced
2 t Dijon mustard
½ t sugar
1/3 C olive oil
Salt
Fresh ground pepper
Preparation
1. To prepare the tuna, sprinkle both sides with salt and pepper. Heat oil in a large skillet, preferably cast iron, on high heat. When the oil is very hot and lightly smoking, add the tuna. Sear on one side for 2 minutes, turn the tuna and sear about 1 minute. Remove from the skillet to a cutting board and let rest.
2. Add potatoes to a large pot and cover with water. Add a few teaspoons of salt. Bring to a boil, and cook for about 15 minutes until potatoes are cooked through. Bring another pot of water to boil and add the haricot vert, turn off the heat, let stand for 2 minutes. Drain and run cold water over the vegetable. Pat dry.
3. Add the greens to a platter or shallow wide bowl. Slice the tuna thinly. In rows, arrange the tuna, potatoes, haricots vert, olives, capers, tomatoes and egg.
4. To prepare the vinaigrette, whisk together the vinegar, lemon juice, shallots, garlic and mustard. Season with salt and pepper. Slowly in a thin stream, whisk in the olive oil until emulsified.
5. Drizzle the dressing over the salad and serve.
For reservations or more information, call 1-888-407-4869, email reservations@velasresorts.com or visit http://vallarta.grandvelas.com/.
About Robyn Webb: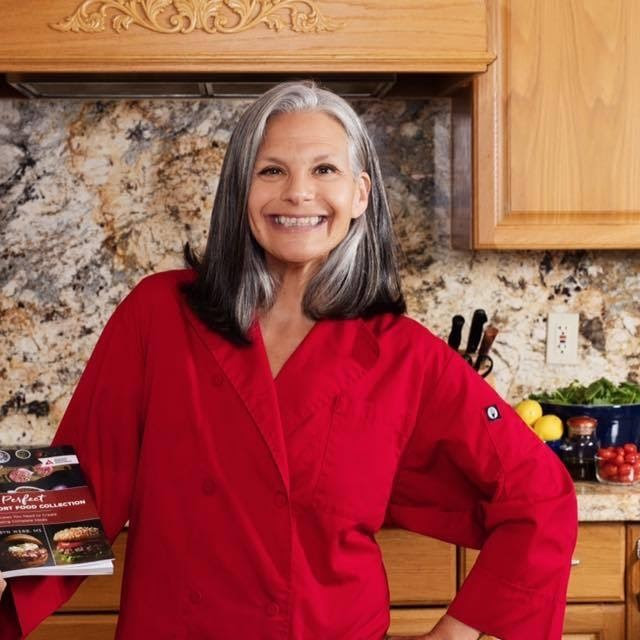 Robyn Webb, MS, is an award-winning cookbook author, nutritionist, culinary instructor, the long time Food Editor of Diabetes Forecast Magazine, and the Health and Wellness Editor for The Daily Basics. She has written 17 cookbooks for which she's won several awards, including the World Gourmand Award for Best In the U.S. - Winner for Health and Wellness for both her latest book, The Perfect Diabetes Comfort Food Collection (2016) and her biggest bestseller The Diabetes Comfort Food Cookbook (2011). Other awards for her cook book writing include the Benjamin Franklin Silver Award Honoree for The Smart Shopper Diabetes Cookbook (2013) and the all-time best-seller, Diabetic Meals in 30 Minutes or Less (1998). She has been profiled by many media outlets to include CNN, LifetimeTV, Food Network, CBS news, Discovery Channel, Martha Stewart Radio, Sirius Radio and so much more. She has written for and been profiled by The Miami Herald, Washington Post, Chicago Tribune, Cooking Light, Eating Well, Women's Day Magazine, Shape Magazine, and Cosmopolitan to name a few. She has been a spokesperson and featured speaker for numerous companies, such as Nestle, Kellogg's, American Diabetes Association, the World Bank, The International Monetary Fund, The Bureau of Labor, and Whole Foods among others. She is currently the culinary instructor for the University of Miami, teaches private in home cooking classes and offers private chef services and private nutritional counseling in South Florida.
About Grand Velas Riviera Nayarit:
Grand Velas Riviera Nayarit, a Leading Hotel of the World, enjoys a privileged natural setting with flowering, landscaped gardens beside a long stretch of pristine beach and a dramatic backdrop of the Sierra Madre mountains. The centerpiece of the gardens is a three-tiered infinity pool, a preferred spot for catching the legendary sunsets. The AAA Five Diamond all-inclusive resort features 267 ocean-view suites, some with private plunge pools, and all with LCD high definition flat screens with digital cable, Wi-Fi, fully stocked mini bar, L'Occitane amenities and Nespresso machines. Of the resort's five restaurants, three, serving French, Italian and Mexican gourmet cuisine, have received AAA Four Diamond awards for distinguished cuisine and presentation. An oasis of wellbeing, the resort's Leading Spa of the World offers 20 treatment suites, more than 30 spa treatments, many inspired by the native traditions of Mexico and a signature water journey. Other features include a fitness center, 24/7 insuite service, water sports, business center, tennis, baby concierge, Kids Club, and Teen's Club. Puerto Vallarta is just a 15-minute drive away. Grand Velas Riviera Nayarit features more than 25,000 square feet of indoor meeting facilities, including the Grand Marissa Ballroom, which consists of more than 6,000 square feet and is easily subdivided into five separate rooms. The resort's facilities also include four other rooms ranging from 681 to more than 1,954 square feet that offer several arrangement variations to maximize meeting productivity and efficiency. The resort has won numerous awards from Conde Nast Traveler, Travel + Leisure, TripAdvisor, U.S. News and World Report and Forbes, which named it one of the Top Ten Coolest All-Inclusives in 2012. Grand Velas Riviera Nayarit was built and is operated by Eduardo Vela Ruiz, founder and president of Velas Resorts, with brother Juan Vela by his side, vice president of Velas Resorts.